Feature Packed The Original Barrel Barbecue
The Original Barrel Barbecue has a large capacity, easily catering for 30 guests and is supplied complete with a lid to enable cooking in the British weather, primarily targeted at the hire shop, large family party, camp site or pub gardens. Being constructed from a selected once used 45 gal oil barrel (colours vary) bolted to substantial box section legs, (these strong legs are made detachable to aid transporting and storage ) it is very robust, a major consideration, you don't want to spend an hour cooking your favorite food just to see being eaten by the dog when the barby tips over !!. Charcoal / ash pan, this is fitted to prevent the hot coals touching the barrel and spoiling the paint. 2/3-1/3 grill / hot plate combination aids cooking, the lid cuts down on smoke, speeds cooking and permits use in inclement weather.
£199.99 inc. *UK mainland delivery
BBQ orders now being taken, cheque payment only, please don't leave ordering until the sun comes out, because every man and his dog has the same idea. Print out this order form and send it with your cheque payment

E Mail sales@Barrel-Barbecue.co.uk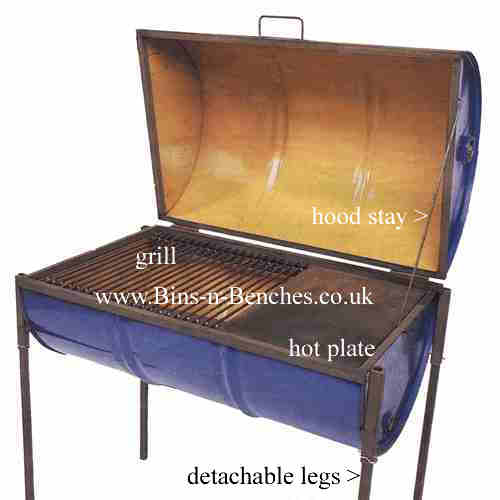 The main difference between The Original Barrel Barbecue and Deluxe Barrel Barbecue the deluxe bbbq utilizes a new oil drum powder coated black and the original bbbq utilizes a selected used oil drum, colours vary and the steelwork is not coated.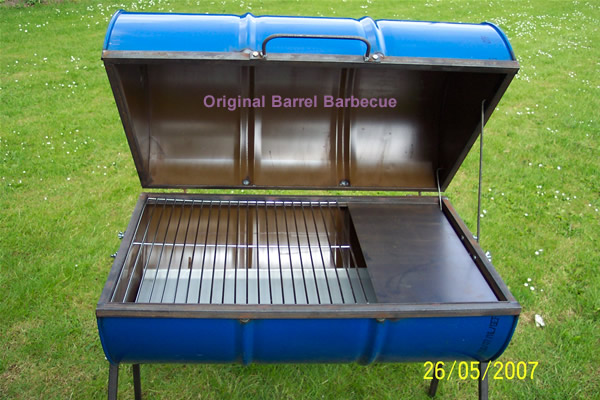 Original Barrel Barbecue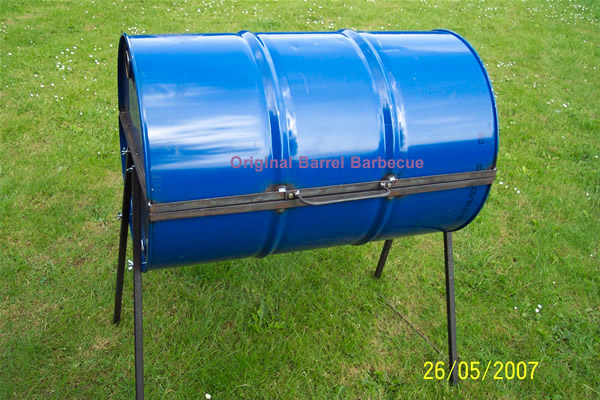 Original Barrel Barbecue in closed position
All steel welded construction

Selected used u.n. Approved oil drum,
Large removable grill

3mm Thick steel hot plate, retains heat for burgers, eggs, fish etc.

Crome plated welded steel Grill, 3/4" between bars

Extra large cooking surface 720 square inches

6mm Round steel grill bars

Strong box section steel legs are removable for convenient storage

Extra large lid handle doubles as tool holder when closed

Supplied ready to use, just unpack, bolt the legs on, fill with charcoal and you're cookin'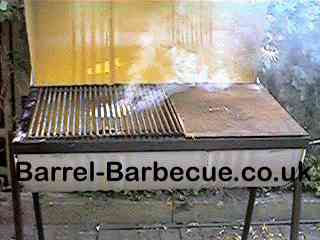 2/3-1/3 grill / hot plate combination aids cooking
Dimensions 34" x 24" x 750mm grill height from ground
grill 21" x 21.5" hot plate10" x 21.5"
Total cooking area nearly 750 square inches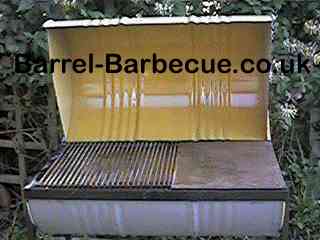 The lid cuts down on smoke, speeds cooking and permits use in inclement weather.
British Charcoal The truly superior alternative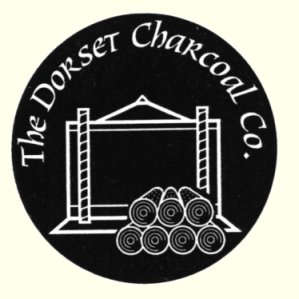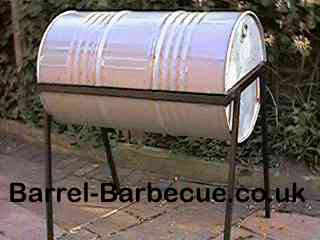 Not the most attractive, just functional, does it`s job and lasts a long time
Leek recipes